At the very young (and very impressionable) age of 4 or 5 it all began.  Having an influential older brother who was a big rock music fan, KISS became well known to Marc and he instantly was hooked.  And when his cousin gave him the Alive! and Destroyer albums, well, things would never be the same!  For Marc, KISS became an obsession.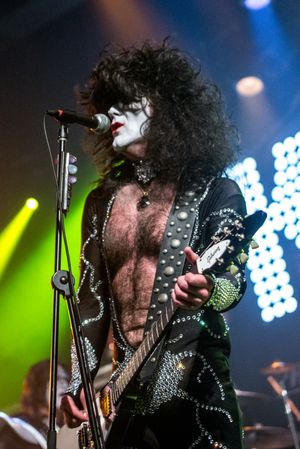 As an adolescent, there was barely an available piece of real estate on his bedroom walls – they were plastered corner to corner and floor to ceiling with images of rock and roll and KISS!  Every week the TV Guide would be carefully looked over to see if any KISS-related things were happening on TV.  Marc could not get enough of his favorite band.
Marc grew up on the same block with the bass player of Danger Danger, who just happened to be very good friends with his brother and would later tour with KISS.  He would regularly get early release copies of KISS albums, and one time he held a pre-release KISS Unmasked album out of his window to tease Marc.  Naturally this caused Marc great stress…
Marc was all consumed.  Costumes were made from tin foil with friends and fake concerts were regularly held, including some in front of his class at school.  Every album was bought.  Every fact about KISS known.  And later when Marc became a teenager and decided to embark on his childhood dream to be a rock star, he took up singing with an original band and learned how to play guitar.
From that point on Marc has played in many bands, both original and cover bands that have been met with very positive feedback and success.  He placed in the finals of a music festival 2 years in a row, and gigging steadily became a way of life.  Along the way people would often tell Marc how much he happened to sound like Paul Stanley which was always interesting to him because that wasn't necessarily what he was trying to do.  Nonetheless, that early influence took root and was always there.
In the not too distant past, a friend asked him about possibly starting a KISS tribute project.  His eyes opened wide and his heart instantly raced at the idea which then quickly became reality.  While achieving some success with his initial Band, Marc literally stumbled upon the opportunity to fill the boots of the Starchild for Alive! '75 in early 2016, and the rest, as they say, is history.
Might just be "make-believe" but it's definitely a dream come true for Marc to get out on stage and deliver the ULTIMATE Classic KISS Tribute in front of groups of screaming KISS fans!  He'll tell you nothing quite compares...
Talk to Marc at starchild_marc@alive75.com.